If iTunes can't find your CD in the online database, or someone gives you an MP3 with incomplete or inaccurate information, iTunes lets you edit the information yourself. Most people want at least the artist and song name! To view and change the information for a song, perform the following steps: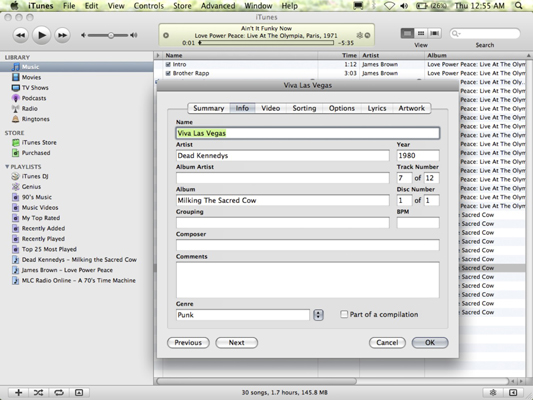 1 Select the song in the Music Library list.
Alternatively, you can select the song from a Playlist.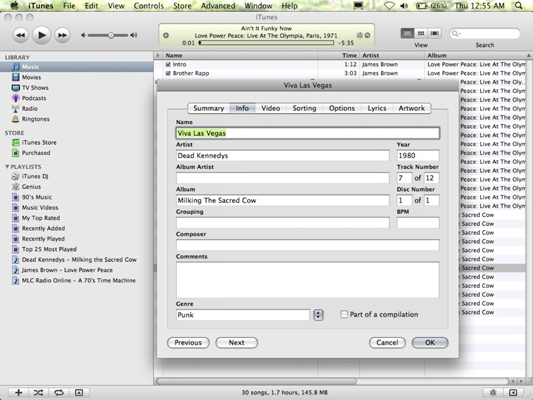 3 Edit the song's information on the Info tab.
You don't have to change all information about a song; it just makes life easier later if you do. Normally, you can get away with setting only a song's title, artist, and genre. The more information you put in, however, the faster you can locate songs and the easier they are to arrange. iTunes tries to help by automatically retrieving known song information, but sometimes you have to roll up your sleeves and do a little work.
Want to manually add album coversto your song info?
Select one (or all) of the songs from a single album in the track list, display the Info dialog, and click the Artwork tab. Now launch Safari, visit Amazon.com, and do a search on the same album. Drag the cover image from the Web page right into the Info dialog, and drop it on top of the "sunken square" image well. When you click OK, the image appears in the Summary pane, and you can display it while your music is playing by pressing Command+G, or by pressing the Show or Hide Song Artwork button at the lower left of the iTunes window!
By the way, if you buy tracks or an album from the iTunes Store, Apple always includes album covers automatically.