Here are a few of our Business Clients
---
---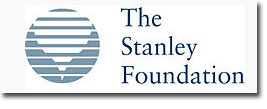 Stanley Foundation - NPR Radio Testimonial
To Whom It May Concern,

The Stanley Foundation, (NPR Radio Show), used Audio Restorations to preserve and compress hundreds of reel-to-reel, cassette, and DAT audio tapes. The tapes represented nearly 20 years of archives from our former weekly public radio program, Common Ground. We accepted bids from two or three services and chose Audio Restorations.

We shipped over 1000 pounds of material to Audio Restorations. Many of the tapes had been stored in poor environmental conditions, and most had not been played for over a decade.

Audio Restorations was able to salvage a copy of each of our broadcasts. According to our agreement, they provided us with two CD copies and one MP3 copy of every tape we sent them. Archives which previously occupied half our storage room now fit in a couple of binders on my bookshelf. And the MP3 versions mean I can add archival audio to our Web site as needed with a just a few clicks.

The service and sound quality from Audio Restorations was fantastic, and I highly recommend them to anyone pursuing a similar project.

---
How to Order Transfers